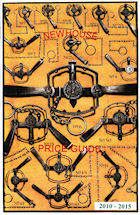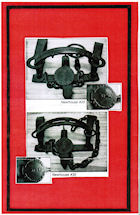 The Newhouse is the most sought after brand of trap in the world because more collectors seek these, than any other type. The history explained on this page is from the first Newhouse Trapper's guide, printed in 1865. This version is a little different, and better than any others that were printed later on.
Hand forged and machine made, #0 to bear traps and miscellaneous items such as gopher traps, clamps, wolf trap wrenches, stretchers, breast plates, pan breakers, and under pan springs, etc. The first Newhouse traps were ALL hand forged. Cast began to replace the forged parts in the late 1850's but the springs were hand forged for several years after. The first machine type spring was introduced on the new #0 in the early 1860ís.
The patent for the standing bears is shown, as well as models made in Canada. Condition prices are listed in 'Very Good', 'Excellent', and 'New' in the later models. It should be noted that these prices are for traps that are complete and original. Traps that are of a 'Good' condition grade, are only worth about one half of the 'Very Good' condition prices that are shown in this book.
Good = Pitting, complete, pan up to 50% legible
Very Good = Light pitting with lettering averaging 75%
Fine = No pitting, 100% lettering, patina, nice
Excellent = As new, may have patina or some shine
New = Never used, at least 75% shine
Mint = 100% shine, as out of box look.
These are the grades that Robert Vance has used for over sixty years when pricing antique traps. The prices listed are average retail. Some will sell higher and some will sell lower. Also some rare traps that are rarely offered, make it hard to designate a set price.
$29.99