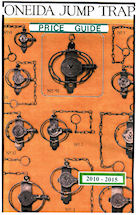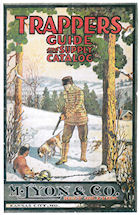 In an agreement between Blake, Lamb & Company and Oneida Community, B.L. & Co. made a line of Newhouse traps and Oneida Community made a line of jump traps, called "Star", in 1895. Star traps had three stars around the top of the pan and came in sizes #0, #1, #2, #2 1/2, #3, and #4, and were either single or double under spring types.
By 1904, the solid pan type was introduced, also in single and double under springs, sizes #0 through #4 and in sizes #12 through #14 which had teeth. By 1910, the double under spring was discontinued and the "V" was cut into the pan.
Stoploss models were introduced in the 1930's and the wire latch models were first made in 1940. A Marsh Special was made from 1922-1929 by both Oneida Community and The Animal Trap Co.
The big, #14 single spring with teeth, is a very impressive trap for catching beavers, coyotes, and smaller wolves. Special #23 and #24 were made for export to Australia with an odd shaped pan, cut out for the spring. One rare model had an extended lever and base plate for easy, one hand settings.
$14.99