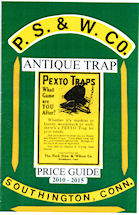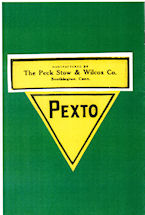 The Peck Stow & Wilcox Co. line of traps is one of much interest in the collector field. P.S. & Co., along with P. S. Manufacturing Co. and P. S. & W. Company written records give S. Newhouse credit for the invention of steel traps in America. Truth be told, the factory of Peck Smith & Co. (1831-1848) was not only producing traps years before S. Newhouse joined Oneida Community, but was making traps with machine cut springs and cast jaws.
Some early traps had slick pans, but many marked pans. Another feature, years ahead of Newhouse were the pan styles. They had raised letters of P.S. & Co. at the top of the pan and often no size number so the same mold could be used for all three size pans. The #1, 1 1/2, and 2, all had bolted jaw, and those sold with chains were of the forged, welded, long link type.
The company name and trap stamping was changed in 1848 to Peck Smith Manufacturing Company. (P.S. MFG. Co.) Later in 1870, the name was again changed to Peck, Smith & Wilcox Company, (P.S. & W. Co.) as it has remained.
During the later years, with many other new companies on the market, P.S. & W. Co. introduced other lines of traps. The "Sure Catch", made in sizes #0through #4, stamped SURE CATCH at the top and P.S. & W. CO. at the bottom with the size in the middle, is one of the rarest of the P.S. & W. Co. traps. A line of Hector traps were also introduced including the GOOD LUCK model with a swastika cut into the pan. A line of under spring models were also made in single and double springs with JUMP, JUMPER, or P.S. & W. Co. and the size on the pan. A few of these merely had the size number. Another line of the long spring models were also introduced, called the VICTORIA. These were also rare.
With all these well made traps on the market, what is the reason for these traps being a poor seller next to other brands by Oneida Community and A.T. Co. models? Here we have and early example of the fact that it pays to advertise. After the year 1900, Oneida Community ran full page advertisements in many magazines while only a very few, very small ads were put out by the P.S. & W. firm. With the low sales in the late 1920's, the traps and all rights were bought by A.T. Company in 1929.
$16.99