| | | |
| --- | --- | --- |
| | The 50th Anniversary National Trappers Association Collectors Commemorative Bear Traps | |
Hutzel Traps - [ Largest Bear Traps in the World ] [ Alligator Traps ] [ Wolf Traps ] [ Replacement Springs ] [ Special Edition Traps ] [ Cannons ] [ Ebay Auctions ]
Please Note the NTA 50th Anniversary has ended. As such, this special edition trap is now DISCONTINUED and no longer available for sale.
These Number 15 Bear Traps were designed specifically for the celebration of the 50th Anniversary of the National Trapper's Association. These traps were hand made by the Hutzel Trap Company, one at a time, by the Master Trap Maker himself. These traps were intended for use as a conversation piece, to hang above fireplace mantles and in hunting lodges. Even though these traps were never meant for practical use, they are FULLY FUNCTIONAL and can potentially be VERY DANGEROUS when handled carelessly. Even though featured as somewhat of a novelty, these traps are still real traps.
The "NTA Traps" for short, were available in three models which could be purchased individually or as a complete set. The "A" model featured solid brass jaws and a solid cast brass pan complete with 24k gold medallions, riveted to the springs, featuring running bears with the NTA logo, United We Stand, and the anniversary date of the National Trapper's Association. The "B" model featured handmade steel jaws, with brass rivets holding the teeth, displaying NTA stamped across the tops of the jaws. The "B" model also had the gold bear medallions riveted to the springs. The "C" model was a more basic package having only the cast brass pan like models "A" and "B".
All three traps had stampings that were done by Ed Hutzel, with a set of stamps that must be individually done by stamping each letter with a hammer. The solid brass pan is 4 ¾ inches wide, displaying the NTA logo and the anniversary date, 1959-2009. All three were polished to a mirror finish. Every trap/set was given a serial number that is documented in Hutzel Trap Company files. This was so each trap/set can be traced back to original owner and date of purchase. A portion of revenue from each trap was donated to the National Trappers Association to protect your trapping rights.
Even though the production run of these traps only lasted one year, they are guaranteed to be talked about for generations. And to those lucky few who purchased the Hutzel Trap Company's NTA Trap, they will only rise in value.
Hutzel Trap Company encourages everyone to join the N.T.A. to help preserve trapping rights and to take your children, and your children's children trapping with you to keep the tradition alive.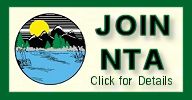 Copyright © 2018. Hutzel Traps - The Hutzel Trap Company